Share feedback
Thanks for sharing your feedback!
Close's iOS mobile app allows you to easily communicate with your prospects and customers, regardless of your location. After you download the Close app, your Leads will go wherever you go.
Access your Inbox while on the go
Quickly email, call, and send SMS to customers
Add tasks, notes, and opportunities
Add or edit lead data from anywhere
View reports to see insights on your leads
With our mobile app, you can stay connected and responsive no matter where you are.
Download the Mobile App
Click here to download the Close app on your iPhone. Alternatively, head to the App Store and search for Close CRM. This app is free to download and can also be downloaded on iPads.
App Download limitations
The Close mobile app is available on the App Store for iPhones. This will be expanded to other phone types (such as Android) in the future.
Getting Around
On the Mobile app, your primary navigation area is the lower menu bar. You'll find your Inbox, Leads, Contacts, Opportunities, and Reportson that toolbar.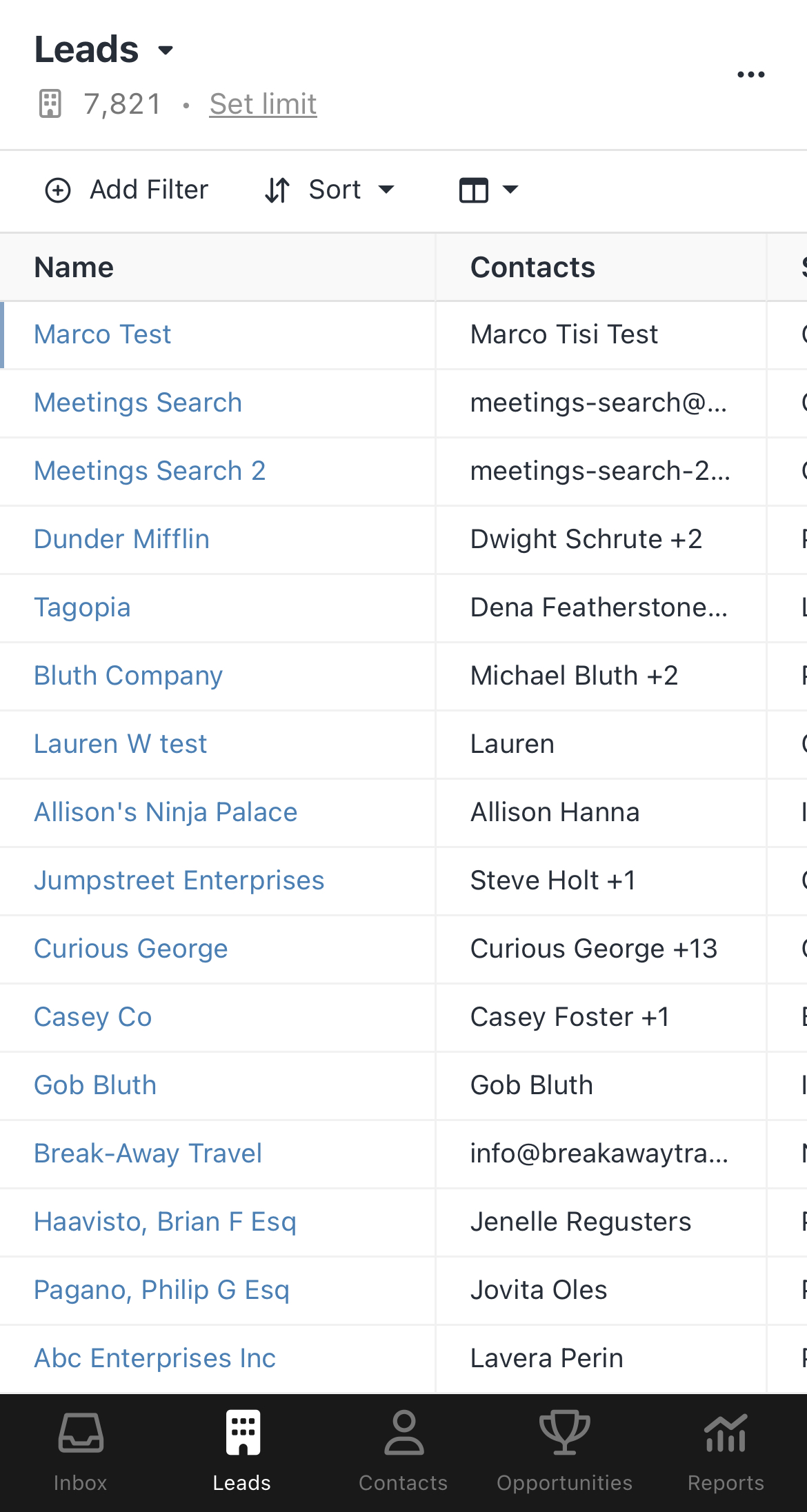 Calling
Outbound Calls
To view your call settings, head to a specific lead and select + Add Activity > Phone Settings. In this menu, you can select which phone number to dial from (including your cell phone number), and enable or disable call recording. Once your call settings are appropriately set up, make a call by selecting + Add Activity > Call. This will dial the primary phone number of the primary contact.

To dial a specific contact, make sure you're on the lead Details tab and select the phone icon found next to the contact name. You can only dial contacts that have a phone number saved, as indicated below - Gob Bluth has a phone number that can be dialed, whereas Michael and Buster do not.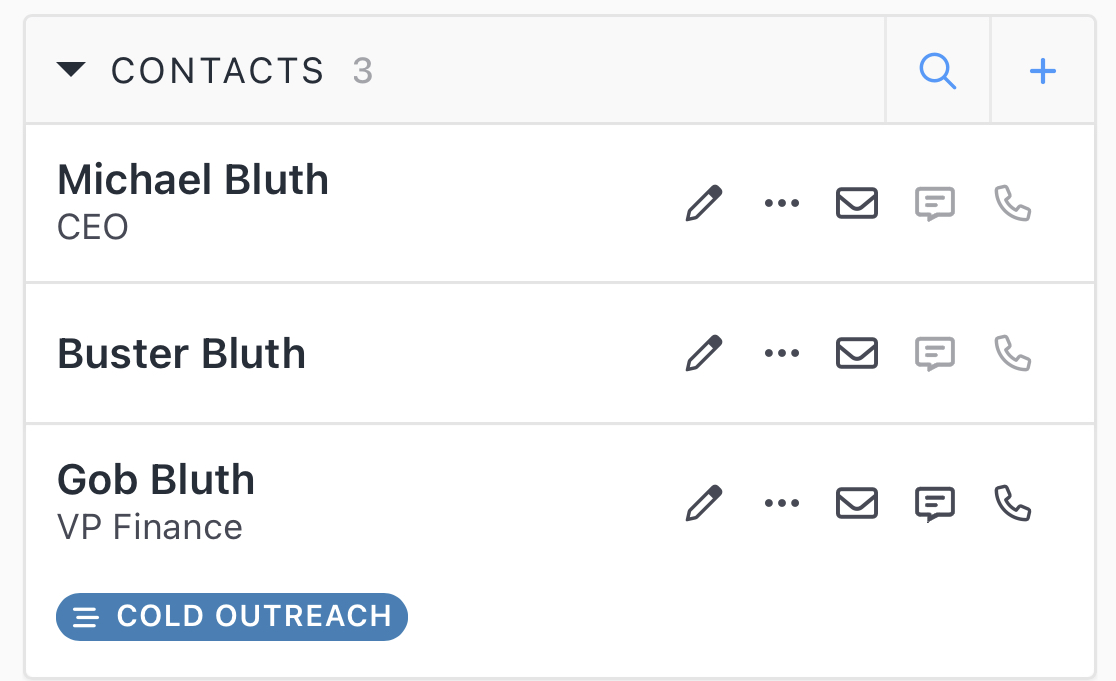 Inbound Calls
When a lead dials your Close number, the call will be routed to your cellphone (and your desktop app if active). The Lead Name and the Contact Name will show as they appear in Close as the caller ID, and there will be an indication that the call is coming from Close: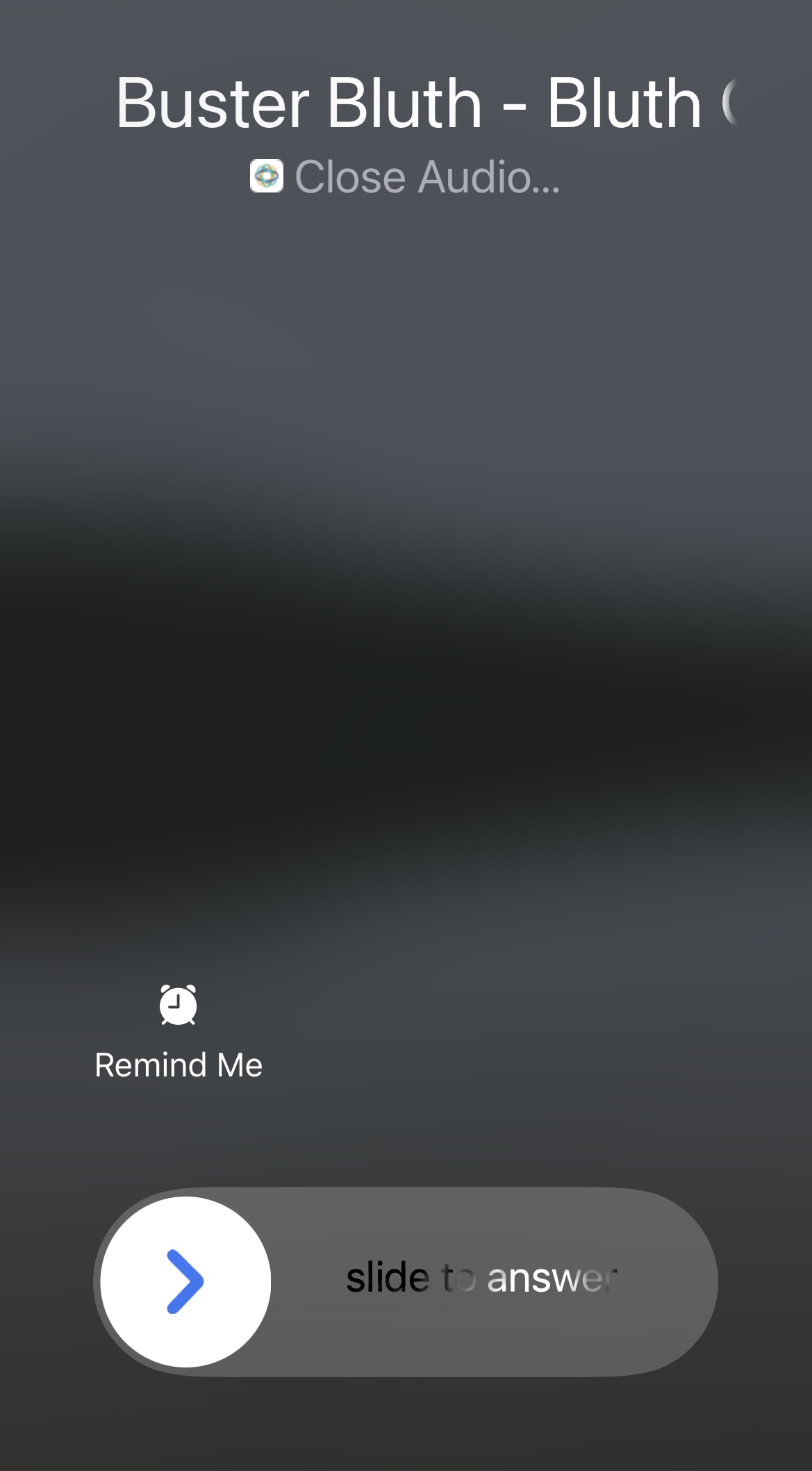 Calls to a Group Number
Incoming Group Number calls will ring on both your desktop app (if active) and your mobile device.
Bulk Actions
Click on the ... menu in the upper-right corner of your app, next to the Smart Views icon. Here, you'll find options to Bulk Edit your Leads (such as updating a Lead Status and updating a Custom Field), send them a Bulk Email, and Exporting your data.
Also in this menu, you can enroll your Leads into Workflows and manage those Workflows.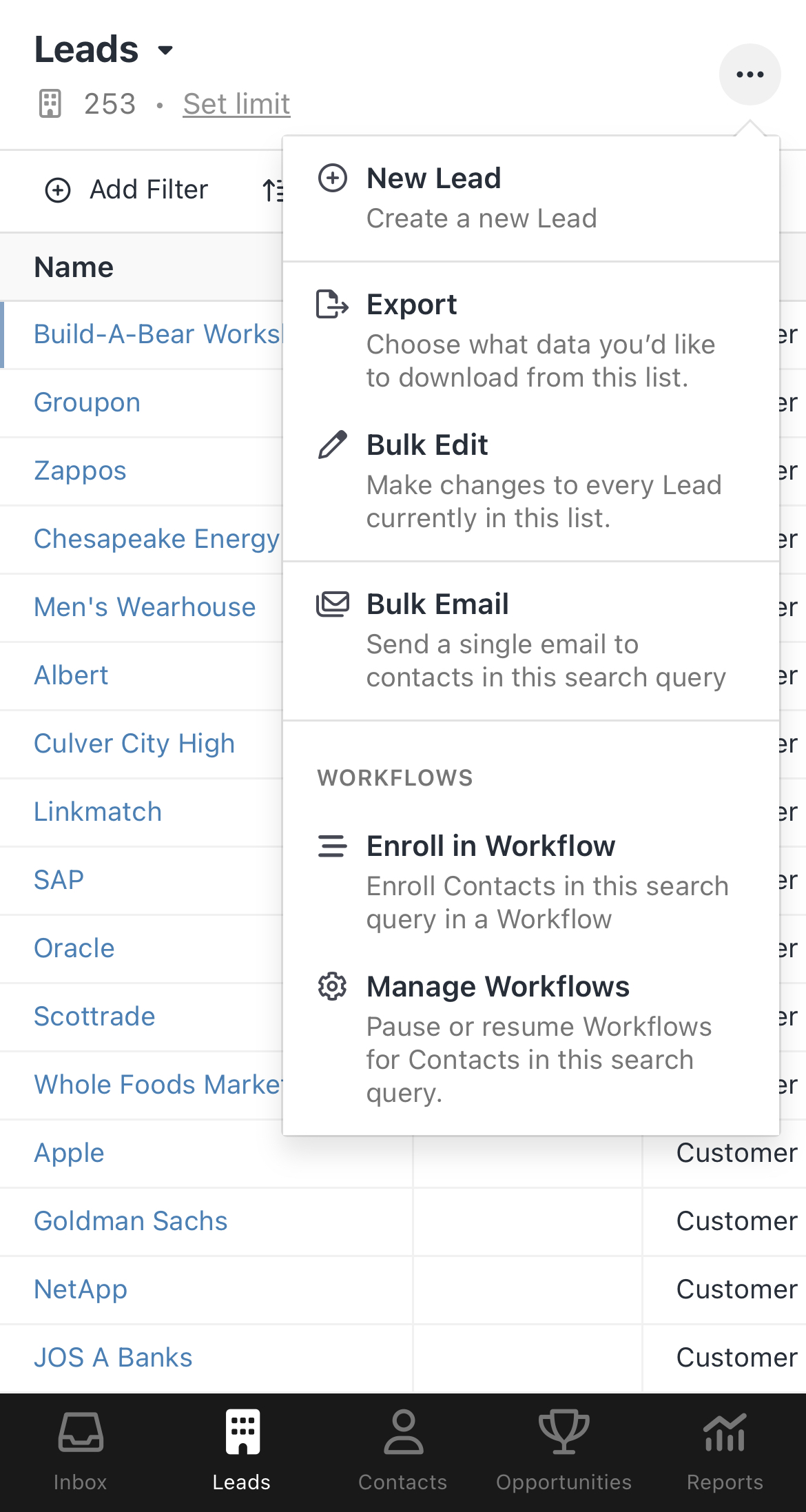 Using the Opportunity Pipeline
View your Opportunity Pipelines and update Opportunity statuses from the Opportunities tab on your lower toolbar. To update an Opportunity Status, place your finger on the Opportunity and hold it. Then drag and drop the Opportunity to the new status, or mark as Won or Lost by dragging that Opportunity to the bottom to choose a status.
Not Supported
The Close mobile app is evolving, and there are some features that aren't yet available:
Outbound calling using Power or Predictive Dialer - use the Close desktop app if you need to use the dialer.
Not all reports can be accessed on the app. The Activity Overview, Activity Comparison, and Opportunity Funnel Reports are available; other reports can be viewed using your computer.
Account Settings cannot be accessed on the mobile app.
The Close app requires iOS version 12.4 or later.
---
What's Next