Share feedback
Thanks for sharing your feedback!
Close is designed to collect all of your communication history with a Lead within one view, as well as allow you to communicate with your Leads in a number of different ways.
How it works
By default, Close imports Companies as "Leads." The individuals at that company are seen as "Contacts," and if you are in the process of selling something to that Lead, we track that through "Opportunities."
B2B vs B2C
B2B
If you are a B2B business, your Leads will be Companies where each Lead (Company) will have one or more Contacts.
B2C
If you are a B2C business, your Leads will be Customers, and each Lead (Customer) will have precisely one Contact. The Lead name and Contact name will be the same in this case.
Tasks, Opportunities, Contacts, and Custom Fields
On the left side, you'll see open (incomplete) Tasks, both active and inactive Opportunities, Contacts, and Custom fields.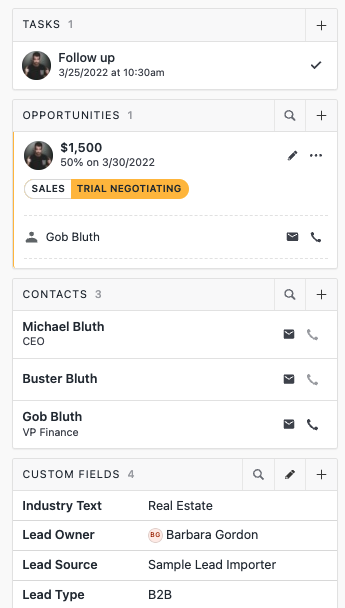 Lead History
Along the right side of the Lead view, you'll see the history of the Lead. Any Calls, Emails, Status Changes, completed Tasks, as well as Notes will all be shown here. You'll also see the current Lead status on the top right-hand side of the page, and be able to change it if needed. The communication history automatically sorts in sequential order.
You can also choose only to view a particular type of activity on a Lead. For example, you could only want to show Notes or your call logs. Just toggle the "Activities" option at the top of the page: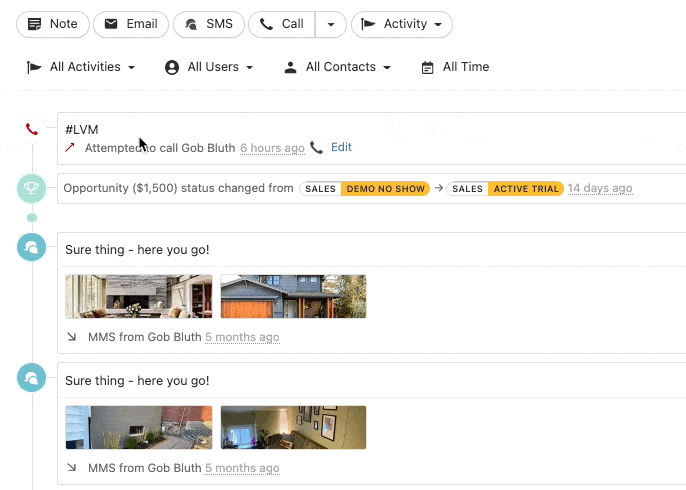 Activity Link Sharing
To share a specific lead activity with a colleague such as an email, SMS, call, note, meeting, or a Custom Activity - just click on the activity date

and then press Copy Link

Date position depending on the activity type
In case of a call, SMS, note, or Custom Activities, the date is at the bottom. For emails is on the right, and for meetings, right below the meeting name.
Copied activity link looks something like this:
https://app.close.com/lead/lead_OJ3CAC6uQWbT1efNI5ji3nIsCL6ahx5uWT1w89JP/#activityId=acti_hTHf0TZefJb0Gr9VlVZeVMV3MPvsJAPIJaOWplM3

So once you share this with your colleague, one will directly go to that specific activity instead of the general lead page.
Shared URLs can be viewed only by active logged-in users within the same Close organization.
---
What's Next