Share feedback
Thanks for sharing your feedback!
Provisioning phone numbers in most countries require registration due to local telephony laws. These regulations often require providing identity documentation to carriers or a local enforcement agency. The documents vary from country to country and also depend on the type of phone number you want to rent and whether you'll be using the phone number as a business or as an individual.
A set of documents required to register a phone number is referred to as a Regulatory Bundle. You can assemble the whole Regulatory Bundle right within Close. We'll then pass it on to our underlying carrier, Twilio, and they'll handle the registration with the relevant administrative entity for you.
Before beginning the registration process, see the documents required for the country you are interested in on the Twilio Phone Number Regulations page.
If proof of local address is needed, you must provide an address that matches the geographic area for your desired number's area code. For example, if you're trying to get a number for Berlin, Germany, an address from Munich, Germany, will not suffice. You'd either need to provide proof of a Berlin address or switch to a number from Munich.
Creating a Regulatory Bundle
Once you have all the needed documents, you can begin the registration process. In your Close account, go to Settings > Phone & Voicemail > tab over to Regulatory Bundles > New Regulatory Bundle. Fill in all the fields as shown below:
country - The country of origin of the phone number you want.
Number Type - Select if you need a mobile, local, national, or toll-free number. If you're unsure which type to pick, see the capabilities of each number type here.
End User Type - Choose whether you'll use the number as a business or an individual. Different documents are required for each type. Refer to the Twilio Phone Number Regulations page.
Identity Info - Depending on what you choose in the previous step, fill in all the required fields. Remember that all the information you provide at this step should match exactly the documents you'll provide in the next step.
Documents - Upload your supporting legal documents as stipulated here . Please make sure any of the inputted information matches exactly what is on your document, as it is all case sensitive. For example, if the Bluth Company is officially registered as "Bluth Company" and the submitted information to Twilio is "bluth company," this will be rejected. Regulatory Bundles are case-sensitive!
Finally, submit the Bundle. Our provider, Twilio, will review the submitted documents to ensure they meet the requirements and either reject or approve the Bundle. Bundles can take a few hours up to a few days to process, and you'll be emailed from support@close.com once your Bundle is rejected or approved.
If your Bundle is rejected for unclear reasons, reach out to support@close.com.
Germany
Germany has more restrictions on acceptable documents than other countries. Please see guidelines here on setting up your Bundle to get a German phone number.
Acquiring a Phone Number
Once your Bundle is approved, you can procure a phone number under Settings > Phone & Voicemail > Add. Admins can add Group Numbers directly under the "Group Numbers" section.
For local numbers, remember to add the local area code (prefix) matching the address of the city you used in your address during registration. For example, if you want to rent a phone number corresponding to Berlin, Germany, use a '30' prefix and select the corresponding regulatory Bundle: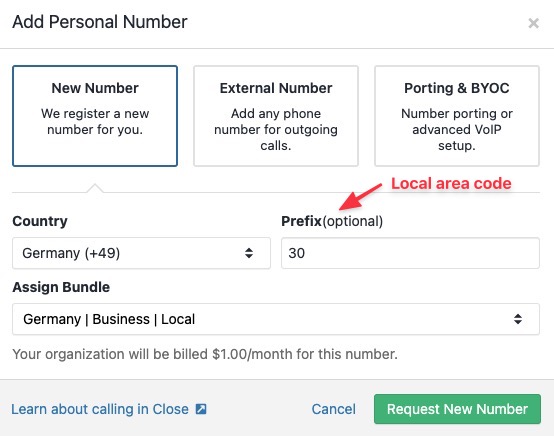 Privacy & Security
Some regulations require you to provide documents with sensitive information, like your passport, national ID, or proof of your personal address. We take the security of these documents very seriously. This is why we send them securely to our telephony provider, Twilio, and we never store them ourselves. Twilio uses encryption, access logging, and least privileged access when processing your data. You can learn more about their practices here.
---
What's Next