Share feedback
Thanks for sharing your feedback!
Do you use Zoom to conduct demos, or run meetings? Now, you can supercharge your sales process and pull recordings of all your Zoom demos into Close!
With this integration, Zoom Cloud Recordings linked to synced calendar events will also be pulled into Close. If the synced Meeting has an associated Zoom link in the event details, we will pull in its recording on the Lead Page.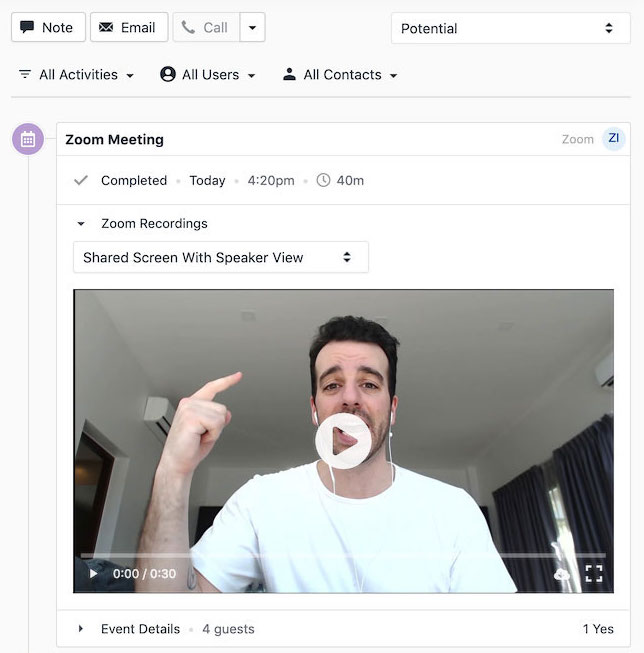 Requirements for using Close for Zoom
In order to pull your Zoom Cloud Recordings into Close, you will need:
A connected Google Calendar or Microsoft 365 Outlook account and working Meetings Sync.
A paid Zoom plan with Cloud Recordings enabled (local recordings will not work).
Only authenticated users can view cloud recordings is toggled off in your Zoom settings.
Your meeting recordings are not password protected.
Your meeting contains at least two participants/attendees - one is the lead email address, and another is your Zoom Connected Account email address.
Your meeting has a Zoom URL in the title, description, note, or Zoom conference link is directly embedded using Google Calendar Zoom Meeting Add-On
Your Zoom meeting started up to 15 minutes early or anytime before the scheduled end time of your calendar event.
Connect your Zoom Account
If you have a Zoom Pro, Business or Enterprise account, Cloud Recordings from synced calendar events can be pulled into Close. To do this, you'll first need to connect your Zoom account to Close.
Approve Close in the Zoom Admin
In order to install the Zoom app to Close, a Zoom account admin will need to pre-approve Close in the Zoom Marketplace.
Sign in to Zoom.
Find the Close listing in the Zoom Marketplace.
Click the toggle to pre-approve Close.
For more details, visit the Zoom help page on pre-approval.
Under Settings > Connect > Accounts & Apps, press "Add Account" and select Zoom to sync Cloud Recordings of scheduled calls.
Complete the sign-in process in Zoom, and once the account is synced, it should appear on the list with the rest of your Connected Accounts, as shown below.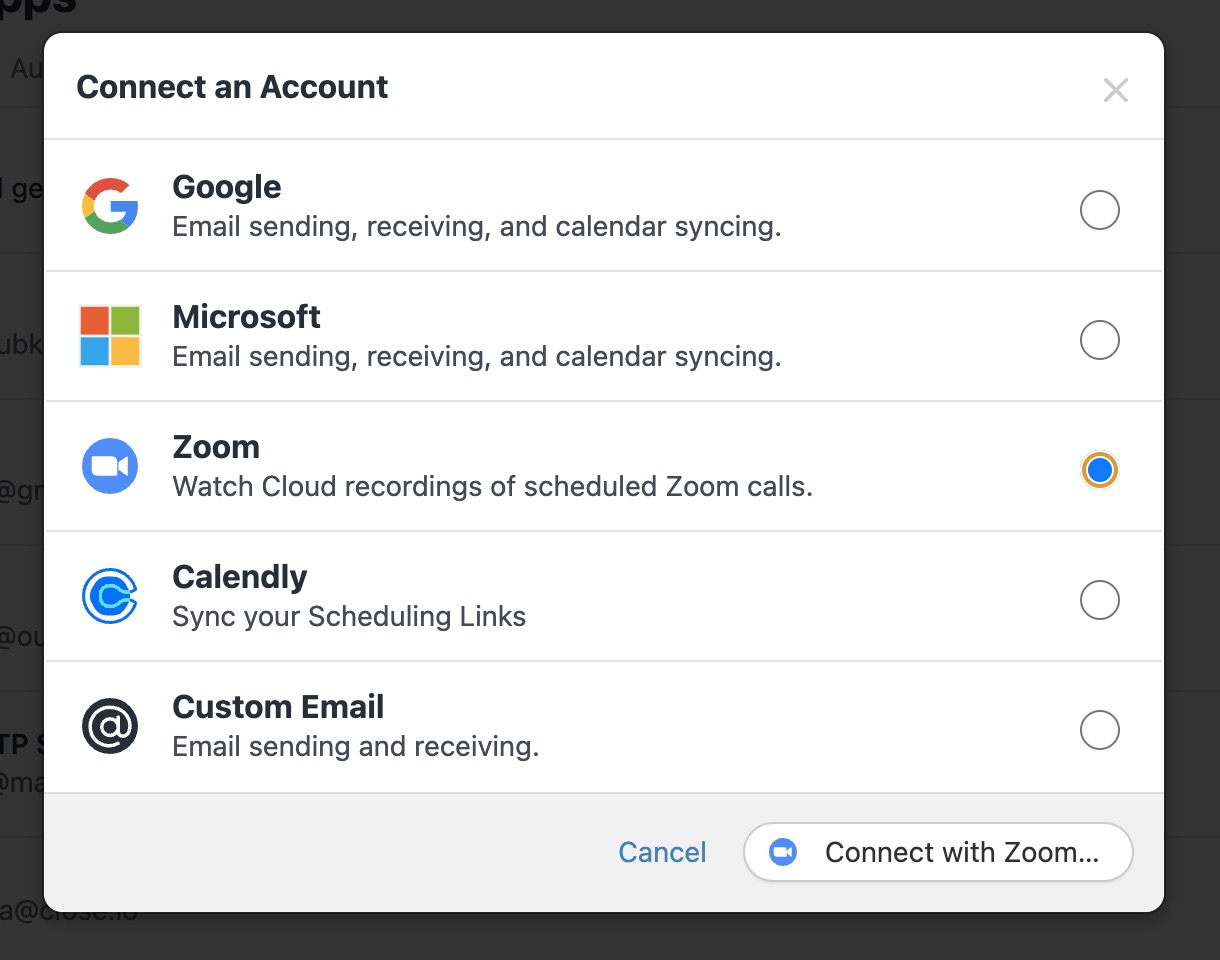 Once this is set, you can review your recorded Zoom calls from right within the Lead Page!
It takes two to meet:
Only recordings with at least two participants (you and one guest) will be synced to Close. A recording with just you, the host, isn't considered a Meeting by Zoom.
Meetings on the Lead page
Just like calling in Close, any recorded Zoom meetings with a registered contact in Close will be automatically logged on the Lead page. You will see these as a new activity on the top of the Lead page as shown below.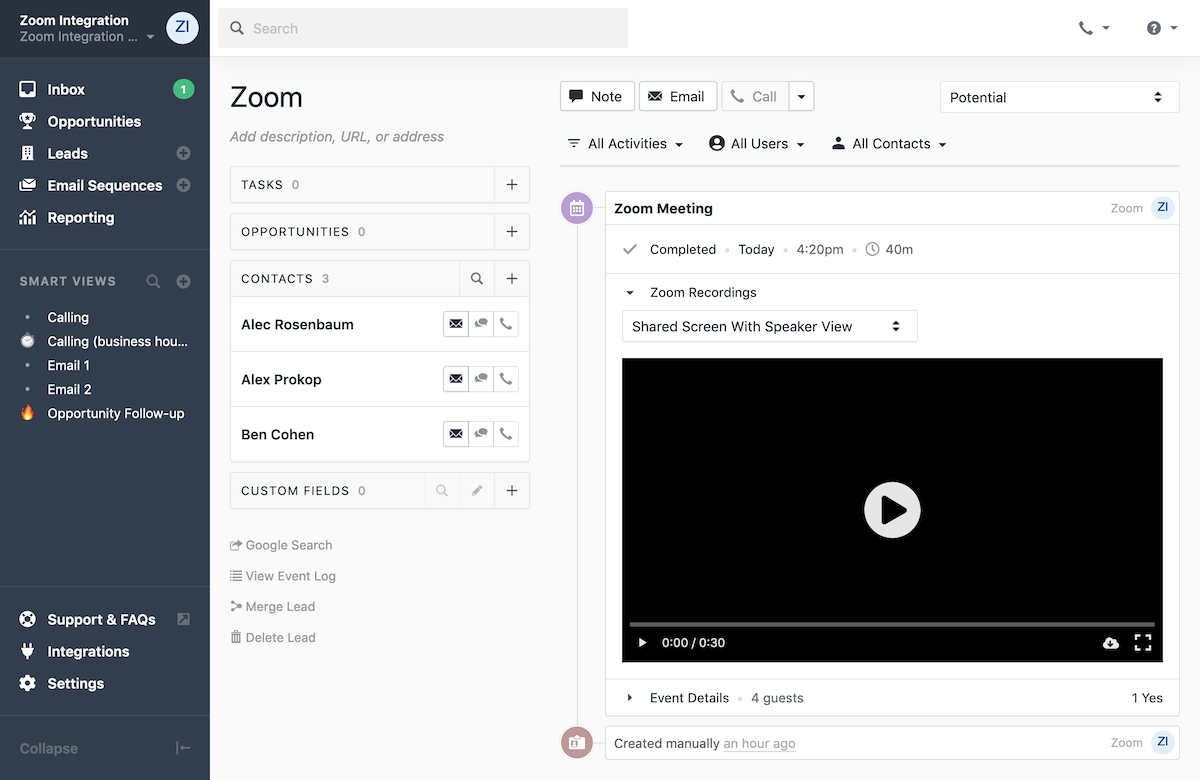 Meeting Reminders
Once a meeting is confirmed, you will also see upcoming Meeting reminders in Close, located at the top of the page in the Meeting Reminder bar.

The Meeting Reminder bar is a notification that appears at the top of your Close screen max 5 minutes before your meeting starts, regardless of the page you are on. If you click into this Reminder, you will see a link to the Meeting, allowing you to join right from Close.

Availability of Cloud Recordings
Depending on your default Zoom settings, most Cloud Recordings are deleted after 30 days. Close itself does not store your Zoom data, and will reflect any auto-delete settings you have in Zoom.
Disconnecting your Zoom Account
To disconnect your Zoom account, go to Settings > Connect > Accounts & Apps, hover over the connected Zoom sync and press the edit icon.
Click on the red "Remove Account" button to disconnect.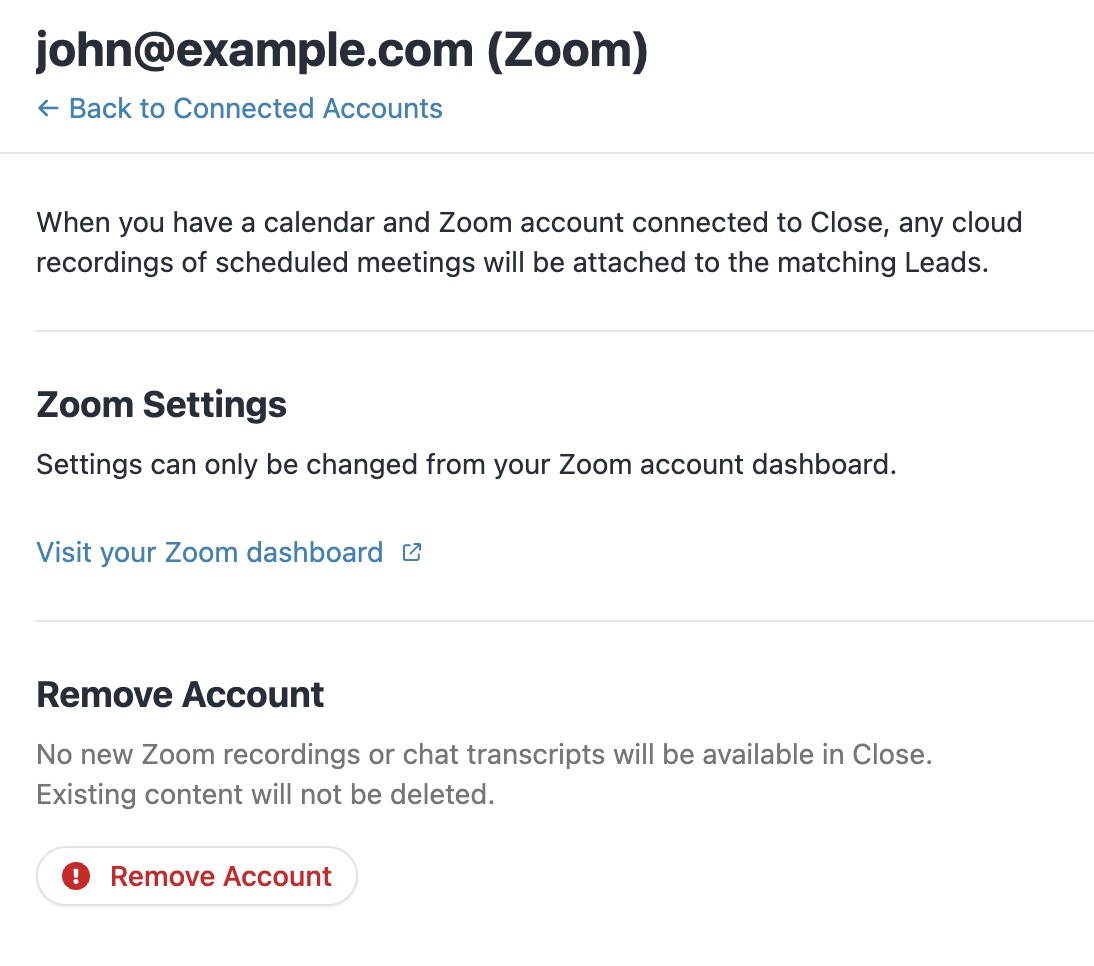 ---
What's Next