Using Smart Views to build your workflow in Close will prevent you from drowning in tasks, but what if it's not enough? What if you still have dozens or hundreds of tasks in your Inbox every day?
Using #codes, you can start prioritizing your tasks into categories that make sense to you. Here's a few examples:
High, medium, low priority
Not follow up, call back, send proposal
Once you've chosen your categories, decide on the #codes you'll use for each category. For example:
High priority can be #hp
Not follow up can be #nfu
Then start using those #codes into your task description.

The last step is to create a Smart View for each category to dynamically pull leads with tasks matching your defined #code. Following the examples above, queries would be:
task( user:me is_complete:no #hp)


task( user:me is_complete:no #nfu)


Finally, you can emphasize each priority even further by adding an emoji to each Smart View. Either copy and paste an emoji from a website or, if you're using a Mac, place your cursor at the beginning of your Smart View name when you're editing it, then press control, ⌘command, space and Close will give you an array of options to choose from.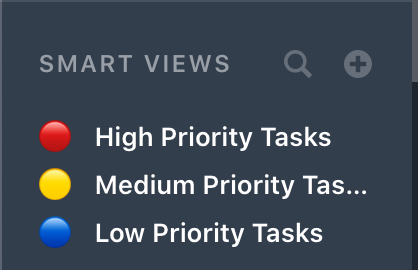 ---
What's Next